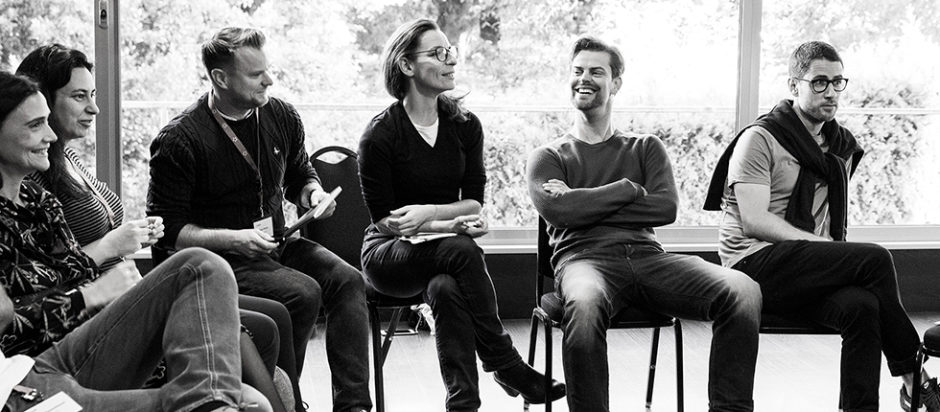 The film industry is not having an easy time keeping up with the pace of things today. All the pillars of financing, content and marketing are being shaken by the "Uberisation"/ "Netflixation" of the world economy. A highly compartmentalised film industry in the time of Internet is paralyzing innovation and undermining talent development. EAVE producers are among those forward-thinking people in the industry who are turning threats into opportunities. They are adapting to change and this is the best way to embrace the future.
Although they are probably still some way from finding answers, they are asking themselves the necessary questions with a view to moving forward. Here are ten reasons why EAVE producers are confronting this challenging present and building a brighter future:
OVERCOMING BARRIERS WITHIN THIS EVER-CHANGING INDUSTRY
EAVE producers seem to have no concept of the so-called "comfort zone". They are constantly asking themselves questions about how to adapt to new content formats, about managing the fragmentation of the film chain in the time of Internet, about mapping out a future in the Digital Single Market World, about embracing new models of distribution that are sustainable and financially viable and, ultimately, about how to capture the tricky indie cinema audience.
TRAINING ALONGSIDE PROFESSIONALS FROM OTHER SECTORS OF THE INDUSTRY
More and more, other areas of the film business are welcome at EAVE workshops. Sales agents, distributors, exhibitors, film funds representatives, advertisers and other cultural industry professionals put themselves in the shoes of producers for a few days. This generates empathy and multi-disciplinary knowledge exchange – the best scenario for innovating and thinking out of the box.
SPREADING AND SHARING KNOWLEDGE
EAVE is a community where many like-minded producers are committed to the transformation of society. Several EAVE ON DEMAND workshops, training events and learning platforms are hosted by alumni, and several tutors and experts are actually emerging from the classrooms. Knowledge is spread globally through the members of the community. Sharing brings progress for the future.
MANAGING BUSINESS-SUSTAINABLE COMPANIES
Through workshops such as EAVE+, producers are challenged to think beyond the project-per-project and film-by-film logic and build sustainable companies. Although many of them are still far from attaining a real business model, EAVE producers are constantly thinking how to make a living, creating new business models and sustainable companies.
TOWARDS A MORE BALANCED PRODUCER-DIRECTOR TANDEM
When producers are not a distant financial element, or a slave of the Auteur, but an active creative partner, the talent of the director flourishes and emerges coherently. A producer-director tandem based on mutual respect and driven by solid, collaborative effort is often the seed of excellent content of the highest quality, making for healthy cultural industries.
THINKING EUROPEAN AND WORLDWIDE
Although today we take co-production as a given, as something that has always been there, it was within the itinerant walls of EAVE workshops, 30 years ago, that the whole idea of co-production started. At that time, most films were made within the boundaries of a given country and remained there. Today, this practice is intrinsic to the DNA of independent film production and EAVE producers are citizens of the world who, from the outset, conceive content with an international outlook.
BEING VERY CREATIVE
Far from the cliché of the fat old guy who pays the bills, an EAVE producer is highly creative, is a talent. They actively accompany their directors and writers in the creative process and engage in high-level conversations about content, and help shape the packaging of a film vis-à-vis the audience. Closer to the series Showrunners model, they understand that finance, marketing and content are an indivisible unit that requires producer-driven balance and coherence.
CONCEIVEING A MARKETING STRATEGY FROM THE DEVELOPMENT STAGE
EAVE producers know that they may or may not have a sales agent or a distributor, and that they will have to support the marketing of their film at some point. They have begun to grasp that the earlier they get on top of their positioning strategies in the development stage, the more balanced the film will be, as well as more pleasing to audiences.
GOING BEYOND THE BOUNDARIES OF B2B
Many EAVE producers, particularly those dealing with documentary, are connecting bridges between content and the audience. Whether they have a sales agent and distributor or not, they use tools such as social media, PR, event-cinema and outreach and grassroots tactics to connect directly with the communities interested in their films. Can this in itself become a business model for embracing the future?
BOOSTING FEMALE TALENT AND CAREER DEVELOPMENT
EAVE's future is female. Hierarchy structures are rather patriarchal and EAVE is more and more managed as a collective. More than 50% of EAVE participants are women, who, through workshop participation, are increasingly confident about their talent and their strategies, are achieving greater work-life balance and their level of trust in their capacity to lead in this industry is growing.
Images by: Geraldine Aresteanu